I must admit that I am terrified at how fast time goes by. Not only, is it scary that we are in the second month of February 2011, but New York Fashion Week has confirmed that time just flies. Officially, we haven't entered Spring, let alone Summer, yet we are fast forwarding two seasons and going straight to Autumn/ Winter 2011/2012. But, hey! This is nothing new. I don't know about you, but I am sick of the sight of big body covering capes and thick heavy coats. I want freedom in my clothes!
However, there was one Autumn/ Winter collection which wasn't suffocating. Enter,
Jill Stuart
. Enter sleeveless knits, pretty dresses with a touch of gold colour, fox and owl printed dresses. Of course, there was coats, but they looked light & easy to wear. Oh, and I spotted bum-bags. (I really must start wearing mine now! If you want to have a look at my bum-bag d.i.y effort, click
here)
.
The Irish weather may not allow for such 'skimpy-ness' in the winter,
but I would definitely suffer the cold to wear that sleeve-less knit jumper, clinched by that gold belt, of course! Jill Stuart got it just right with this collection. Amen.
What do you think of this collection? What collection has been your favourite so far?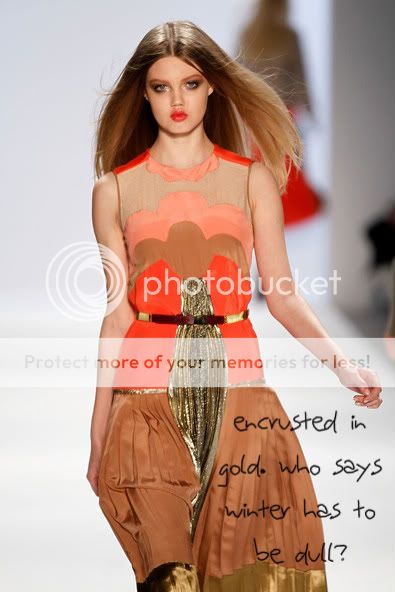 Images from vogue.co.uk and zimbio.com
Fox quote from Thomas Fuller, via brainyquote.com