With my Birthday coming up soon-ish, I feel I need to buy myself an accessory which will last and last. I need to buy myself a nice and bulky ring. Not only would it be nice to look at, but it could also be used in self-defense, if a situation ever arose, of course! In one of my posts back yonder when I started blogging, I said I was a fiddler, a ring fiddler.
So, if I was wearing a ring, I would twist and twist it, until my finger turned a nice shade of red. However, I would never do this with one of those rings, pictured below! These rings
cannot
be treated badly. If you want to read that post by the way, click
HERE
.
What rings do I have my eye on, might you ask.... YSL and Alexander McQueen, darling. I stopped looking at Net-A-Porter and all of those fancy-schmancy expensive sites for a while. But now I am back browsing and who knows, maybe even one day (my birthday) I will make a fancy-schmancy purchase. Let the saving begin!
Are you lusting after anything this week?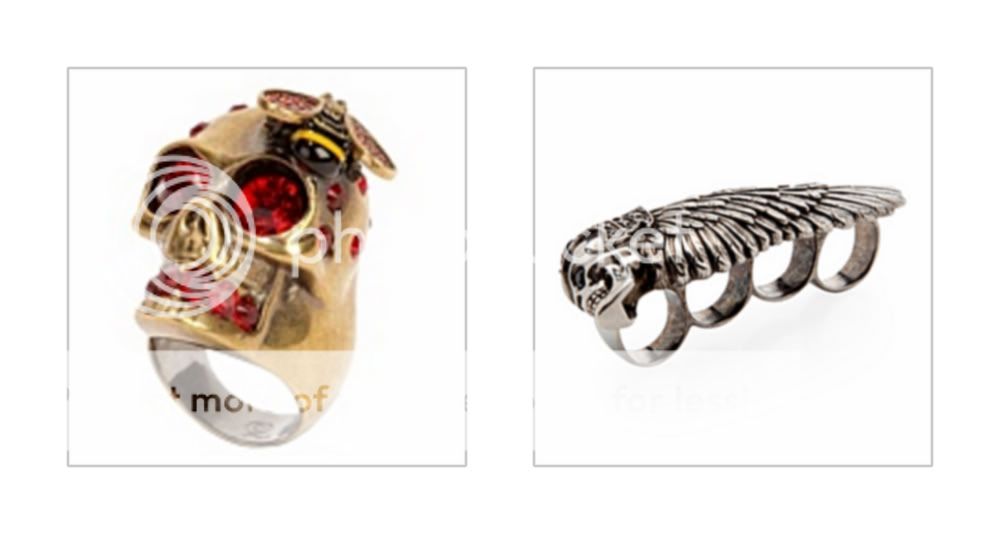 YSL
£115, Harvey Nichols
€145, YSL.com
Alexander McQueen
£150, Alexandermcqueen.com
£280, Harvey Nichols